Farm holidays in the Isarco Valley – South Tyrol
Farm Zolerhof in Velturno

The Blasbichler Family welcomes you to their farm Zolerhof in Snodres near Velturno! Here, you may simply relax and breathe deeply. Our farm in the Isarco Valley is located on a southern slope at 1230 m above sea level right on the edge of the forest. The fresh air is complemented by a wonderful panoramic view, which allows you to admire not only on the Isarco Valley, but also on the world cultural heritage of the Dolomites.
Since 1975, we welcome travellers at our farm, and we've met many great people. Our guests appreciate not only the life on the farm and the cosy accommodation in the heart of the quiet nature, but also the open and inviting ambience at our farm. We would be delighted to welcome you soon for a farm holiday in South Tyrol!
Our farm in the Isarco Valley offers a home to people and animals

The farm Zolerhof in Velturno is not only our home, but also hosts many animals. As a livestock farm we mainly keep cattle and calves. Furthermore, cats, chickens and rabbits live on our farm. Kids are particularly excited when they arrive at the farm Zolerhof and get to know our animals. Your children are welcome to help us with our daily farm work – feeding the animals is always a fun experience for kids during a farm holiday! There is also a playground with a sandbox, a slide, a swing and other play equipment for our young guests. In case of rainy weather, the lounge offers plenty of entertainment: books and games are available, as well as a TV and a stereo system. If you have small children, upon request we will be happy to provide you with a baby cot, a high chair, and a changing table.
Some families also own a dog, and we look forward to welcoming your faithful companion. On the farm and in the surrounding area, your dog can move freely and discover South Tyrol.
Your holiday accommodation
at the farm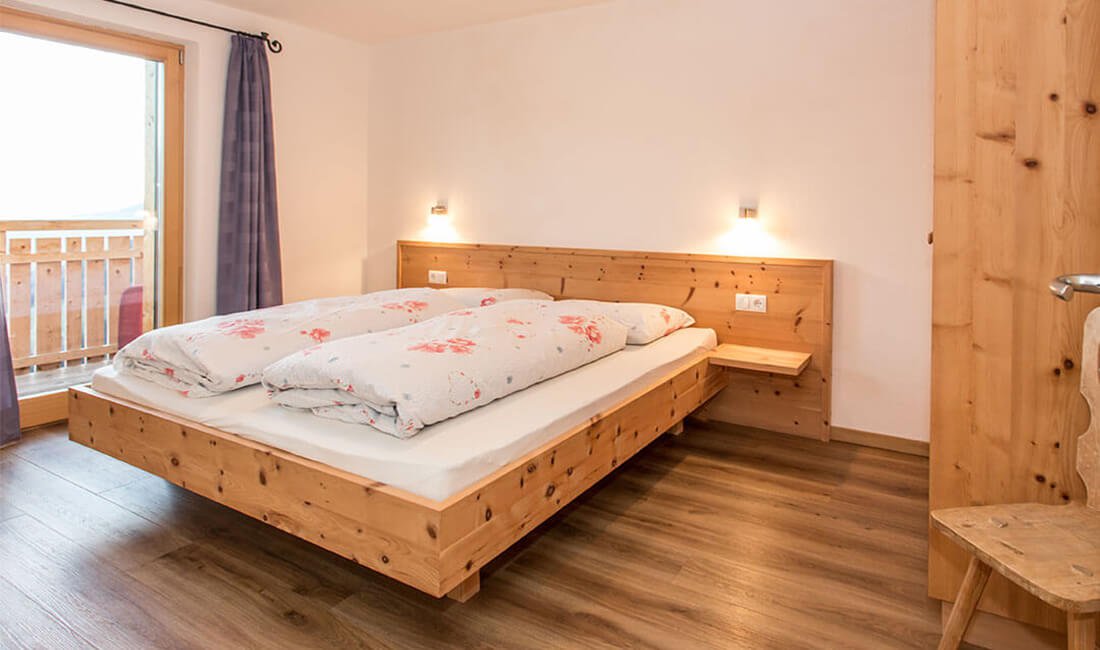 At the farm Zolerhof in Velturno there are five holiday apartments – Thus, you may travel with your entire family or a group of friends. The apartments Alpenrose, Edelweiß, Enzian, Arnika and Anemone each offer space for two to ten persons and plenty of comfort. All apartments have a living room, a bedroom, a kitchen, a bathroom and a balcony or direct access to the garden – This way, you may feel completely at home and spend a pleasant holiday on the farm! In addition to all the essential equipment, such as cooking utensils, refrigerator, shower and WC, bed linen, bath towels and kitchen towels, our apartments are characterized by natural materials and a bright and friendly ambience.
Next to your apartment at our farm in the Isarco Valley, you may also use our lounge, our beautiful meadow, a playground, and a barbecue area. Thus, you may spend a relaxing day at the farm and recharge your batteries for new adventures in Velturno and in the surrounding area.
Velturno has plenty to offer
on 365 days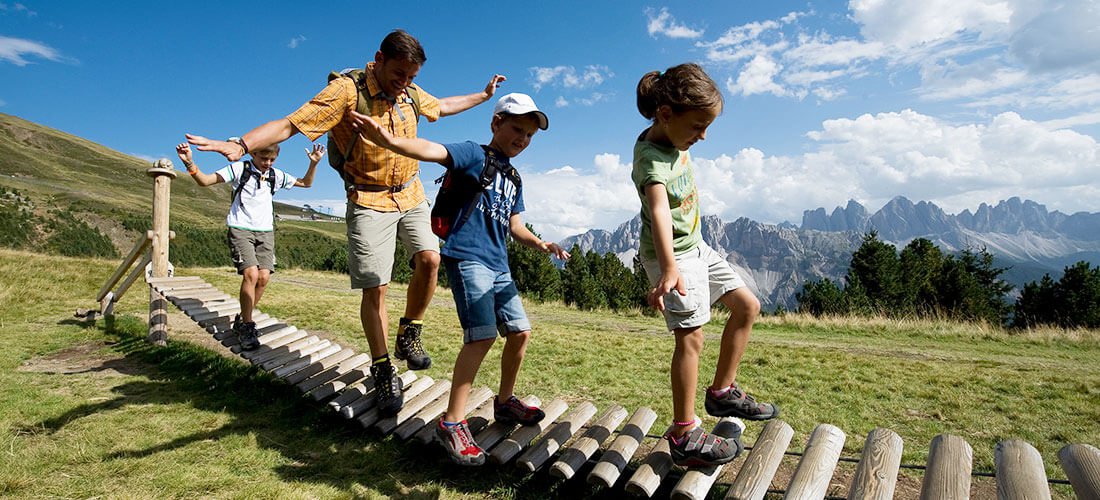 A farm holiday in Velturno is the perfect choice for all those who wish to relax and unwind, as well as enjoy many leisure activities. Very close to the farm Zolerhof, there is the famous Velthurn Castle, which can be visited between March and November. Hiking is always a great option – in the summer and in the winter. In the summer, you may walk to Lake Rodella and to Monte Pascolo, and in the winter on the panoramic path to Kühberg through the snow-covered landscape: wonderful views and unique natural experiences are always guaranteed. Discover the comprehensive programme offered by the farm Zolerhof and Velturno on the following pages, and book your next holiday in the Isarco Valley!
Fantastic view.

The Zolerhof in Velturno